Hospital curtains have evolved from a simple privacy fabric to specialty purpose usage during pandemics such as Covid-19. Today is the best time to reconsider its usage and design to combat the largest pandemic of the century. With hospitals being overloaded and space be a constraint, there are several alternative solutions that the experts are working upon to ensure diagnosis and treatment reaching the masses at its best. While hospitals are working over their capacities, the biggest challenge remains the spread/containment of virus and infections. Ensuring safety of the patients and healthcare staff is of greatest importance today. Therefore, antimicrobial and fire-retardant vinyl hospital curtains are most preferred. These curtains enable containment of microbes over a standard hospital curtain. Fire retardant fabric ensures safety during fire breakouts. It is not a valid way to super impose an anti-microbial treatment over a fire-retardant treatment or vice-versa, as the potency of one may weaken the other property. Therefore, curtains with inherent FR yarns post antimicrobial treatment plays a major role to ensure safety against both microbial containment as well as fire breakouts.
Hospitals are trying to redesign their spaces to accommodate capacity at their best. Many countries are designing simple tents and temporary arrangement within hospitals, using hospital curtain fabrics to accommodate patients for diagnosis, to decide on criticality for admissions. It is not as simple as it sounds, as higher usage and touch would further lead to the spread of virus and infection. Therefore, it is important to consider fabrics and design that allow handy removal and installation of curtains, easily washable properties, minimal touch operations through wands or remote controls. Motorized curtains play a major role which eliminates the need of any manual handling of hospital curtains, wands come as an advantage to clients with limited budget. In both cases just the remotes and wands need to be sanitized on timely basis.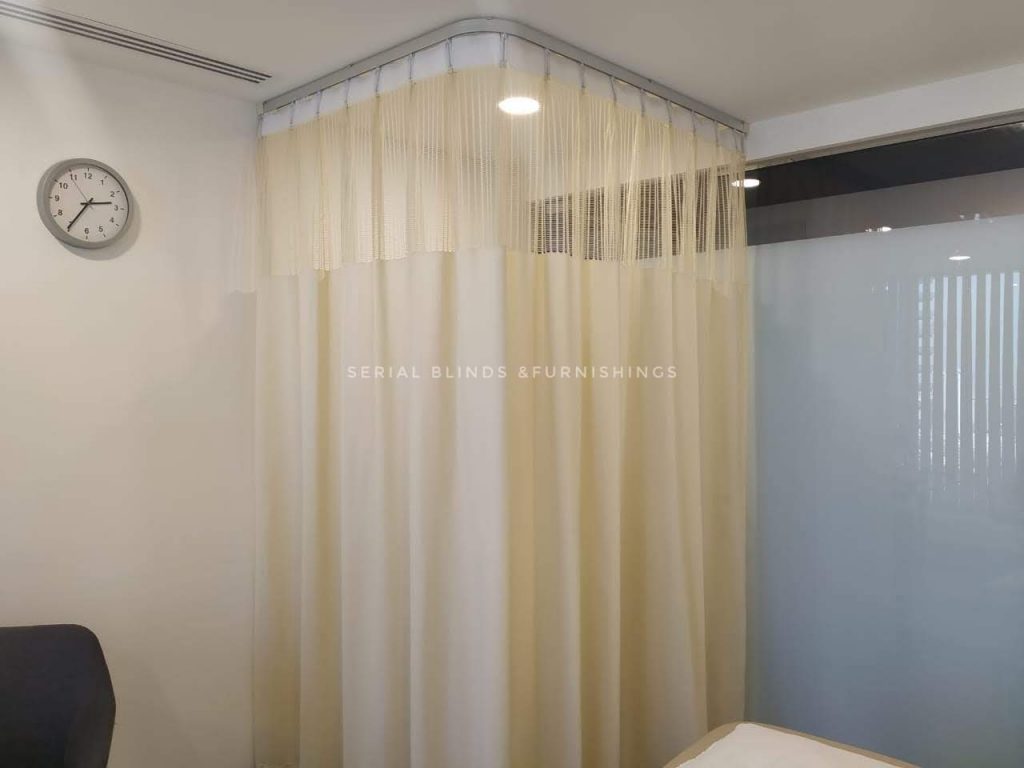 During the most difficult time such as these, it is immensely important to consider smallest of details. Budgets are ever important to make critical decisions. It's a complete gamut of requirements that need to be wisely set before finalizing the curtain vendor. There can be no compromise on the quality of the fabric as this would evade the entire purpose of using a hospital curtain. Hospitals and clinics need to be very careful to ensure that they receive genuine and authentic fabric at competitive prices, quick installation, and timely post sale services. In this case, the vendor is just not an external stakeholder, instead the vendor should partner with the clients from initial consultation to promptly attending any post sale services during this most critical period.
Serial Blinds and Furnishing with its wide network across various countries such as the U.S, Australia, France and others, sources various fabric brand of varied specification as per the need of the market. The expert inhouse team customizes the curtain pattern as per client requirements. Serial Blinds, as a company is open to partner with our clients, and address timelines with respect to installation and provide best of its services to ensure client satisfaction.